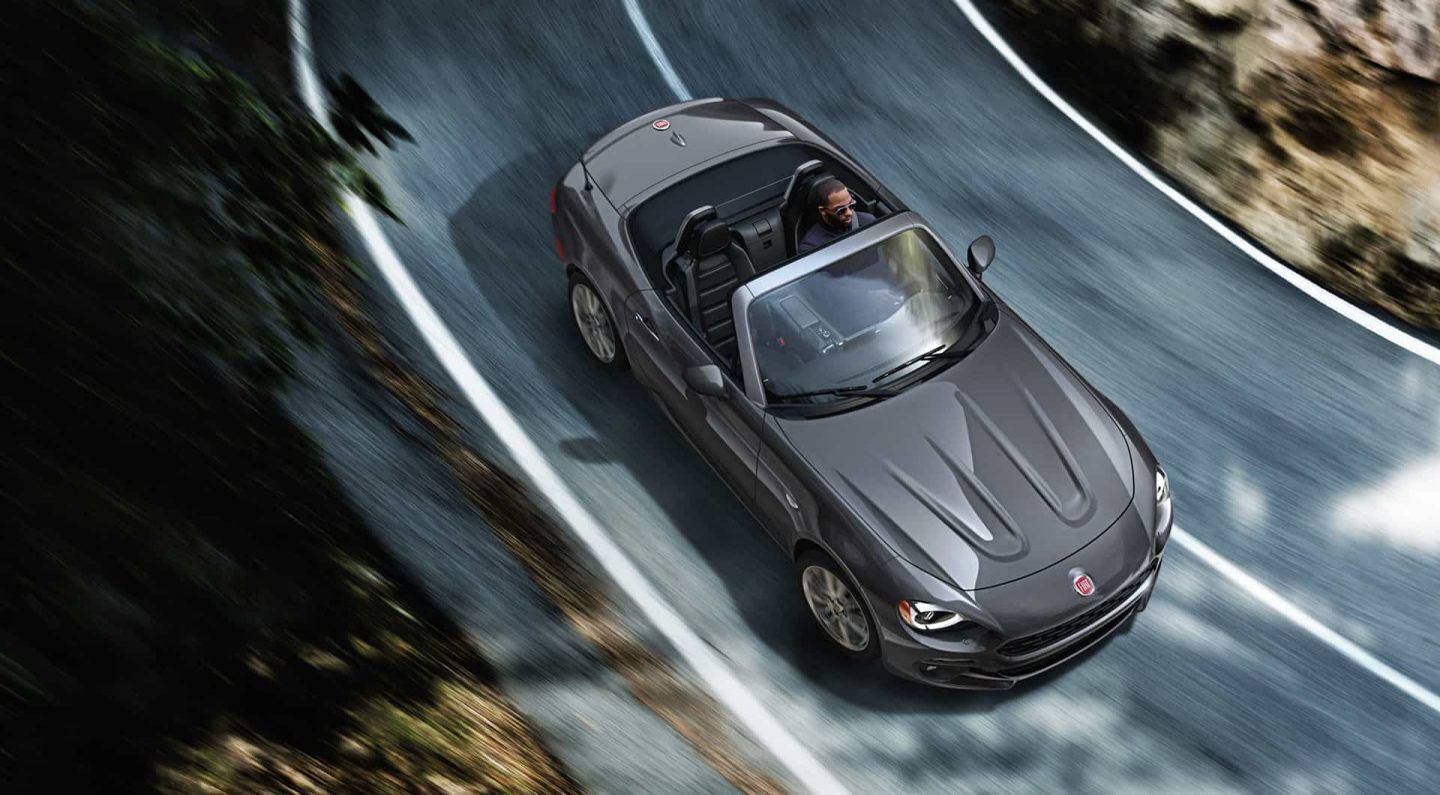 There's nothing like a small sports coupe for tackling winding roads, and feeling truly connected to the driving experience. Among the small convertible roadsters available in South Carolina, none is more talked about than the 2019 FIAT 124 Spider Abarth. The FIAT Spider is a legendary roadster, descended from sports car royalty and with a stunning Italian design, the FIAT Spider is a favorite among Greer buyers that value the driving experience.
And while all FIAT 124 Spider models bring an exciting, engaging driving experience, there's none more impressive than the Spider Abarth. With its combination of zippy driving, old-school class, and modern luxury, the 2019 FIAT 124 Spider Abarth is unlike anything else on the road today. If you've been wanting to know more about this stylish sports car, read on to learn about the FIAT Spider Abarth, available right here in Greer, SC.
Driving the FIAT 124 Spider Abarth
If you're shopping in South Carolina for a small convertible like the Spider Abarth, the driving experience is going to be front and center in your mind. Luckily for our Greer customers, the FIAT Spider Abarth delivers driving excitement in spades. The Abarth's exclusive performance-tuned suspension with selectable driving modes lets you take even the sharpest turns with a wealth of control. It also has more horsepower than other FIAT 124 Spider models, and a limited slip differential.
In addition to the sport-tuned hardware underneath the vehicle, the Spider Abarth also comes with leather & microfiber seats, a sport steering wheel, and unique interior & exterior design elements. You can also get your Abarth in Greer with Recaro sport seats and Brembo brakes. And of course, with a car so focused on the driving experience, a manual transmission is standard, while the automatic is optional. It's hard to beat the driving experience with the manual transmission, but even with the automatic you still get all the benefits of sport-tuning and the Abarth's punchy engine.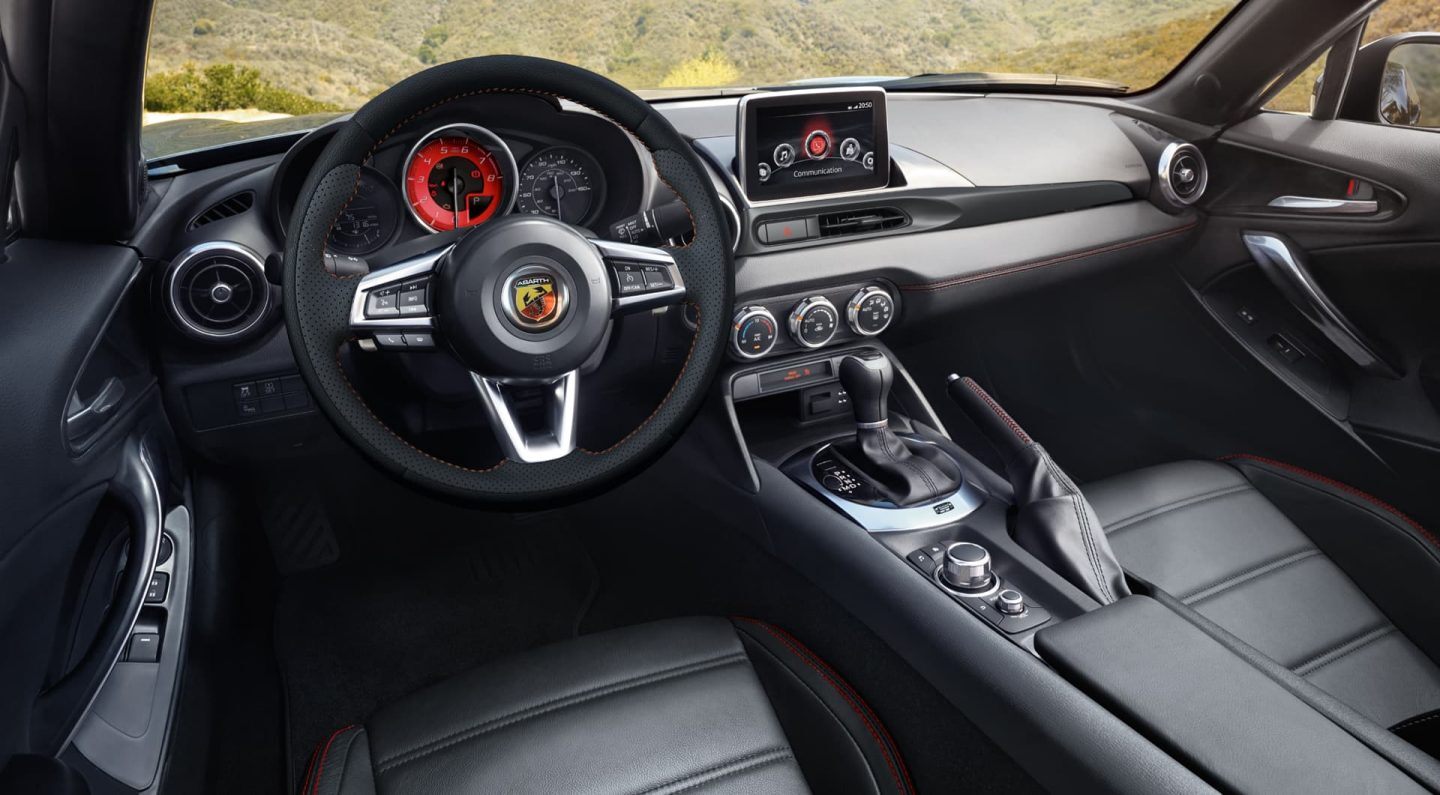 FIAT 124 Spider Abarth Luxury Features
The FIAT Spider Abarth is anything but barebones when it comes to features. It is available with a premium sound system, as well as LED lights and advanced safety features. The center of the infotainment system is a 7-inch touchscreen, which can be optioned with navigation. Compared to the standard 124 Spider, the Abarth also has upgraded interior surfaces and heated seats. FIAT have made sure the convertible top is easy to raise and lower, and that it doesn't affect rear visibility.
Optional safety features include: blind-spot monitoring & rear cross-traffic alert, rear parking sensors, auto-dimming mirrors, adaptive LED headlights, and an alarm.


Try the 2019 FIAT 124 Spider Abarth in Greer, SC
When it comes to a vehicle that's as fun to drive as the 2019 FIAT 124 Spider Abarth, it only takes one test drive to fall in love. With its engaging driving dynamics, punchy engine, and classy luxury features, the Spider Abarth brings everything drivers love about old roadsters into the modern age. And the best thing about it, is that you can test drive one right here in Greer, SC. At Benson FIAT, our staff can get you out on a private test drive, and answer any questions you have about the FIAT 124 Spider Abarth. With its storied legacy and unique character, the Italian-designed Spider is the one you want to drive.
Hours
Monday

9 am to 7 pm

Tuesday

9 am to 7 pm

Wednesday

9 am to 7 pm

Thursday

9 am to 7pm

Friday

9 am to 7 pm

Saturday

9 am to 7 pm

Sunday

By Appointment